Regular price
Sale price
$20.00 USD
Unit price
per
Sale
Sold out
Share
Set your intentions and manifest your dreams bb! Comes with Lotus flower candle crib! 
Black: Corresponds to death, the Underworld, grounding, stability, and mystery. Black absorbs negativity, negative energy, and evil. Use to help when you are feeling at a loss or confused, and when banishing illness. Makes a powerful addition to any spell of divination or protection. Black is the color of the Crone aspect of the Triple Goddess.
Blue: Corresponds to the throat chakra, the element of water, communication, creativity, integrity, understanding, healing, patience, meditation, tranquility, peace, calm, truth, loyalty, justice, leadership, and clear thinking. It is used to represent the earth goddesses when paired with green.
Brown: Corresponds to the element of earth, as well as security, friendship, animal magic, nature magic, generosity, fruitfulness, new beginnings, harvest, health of pets & livestock, endurance, grounding, strengthening, solidifying, sound decision making, improved concentration, focus, telepathy, finding lost things, anything to do with animals.
Green: Corresponds to the heart chakra, the earth goddesses, the element earth, the Green Man (or Horned God), nature, wealth, abundance, luck, fertility, prosperity, longevity, and healing. When representing the earth goddesses, green will almost always appear along with blue. Green is especially useful in color magic spells for healing and wealth drawing.
White: Corresponds to spirituality, cleansing, purity, perfection, peace, innocence, integrity, healing, freedom, opportunity, forgiveness, and acceptance. It is also a color of simple power. White carries the powers of all the colors. It can be directed towards almost any use and can enhance the power of other color magic in spell work. It helps eliminate negative energy and creates inner peace. It is used by many cultures in purification rituals. It also corresponds to the Maiden form of the Triple Goddess.
Yellow: Corresponds to the solar plexus chakra, the sun and sun gods, joy, cheerfulness, charm, attraction, divination, intellect, hope, direction, personal power, confidence, clear thinking, concentration, fruitfulness, and communication. It can also correspond to fear and treachery (this can be useful for banishing them). This is a case where the shade of color can make a big difference: Bright yellows tend to carry the positive aspects, while pale or muddy yellows tend to carry the negative.
Orange: Corresponds to the sacral (navel) chakra, harvest time, happiness, excitement, assertiveness, motivation, adaptability, encouragement, authority, persistence, luck, and prosperity. Orange is useful in eliminating procrastination, anxiety, and stress. It is also helpful when trying to divine solutions or new ways of accomplishing your goals.

Pink: Corresponds to emotional love, nurturing, tenderness, affection, sensitivity, harmony, femininity, friendship, honor, and innocence. While red is associated with fiery love and passion, pink corresponds to the gentler aspects of these emotions.

Purple/Violet: Corresponds to the crown chakra, inspiration, spirituality, the sacred, selflessness, tolerance, tension, intuition, imagination, royalty, wealth, inner peace, security, protection, power, creativity, freedom, ambition, and personal responsibility. It is most often used in spells for protection and psychic ability. It is known to boost your magickal powers and provide healing in the direst circumstances.

Red: Corresponds to the element fire, the root chakra, the god Ares, Mars, love, passion, sex, self-confidence, courage, success, strength, home blessing, creativity, persistence, energy, vitality and female work during moontime. It is often used in love and healing spells. It is also associated with grounding (the Root Chakra), and with any powerful emotion. Red is the color of the mother aspect of the Triple Goddess.
View full details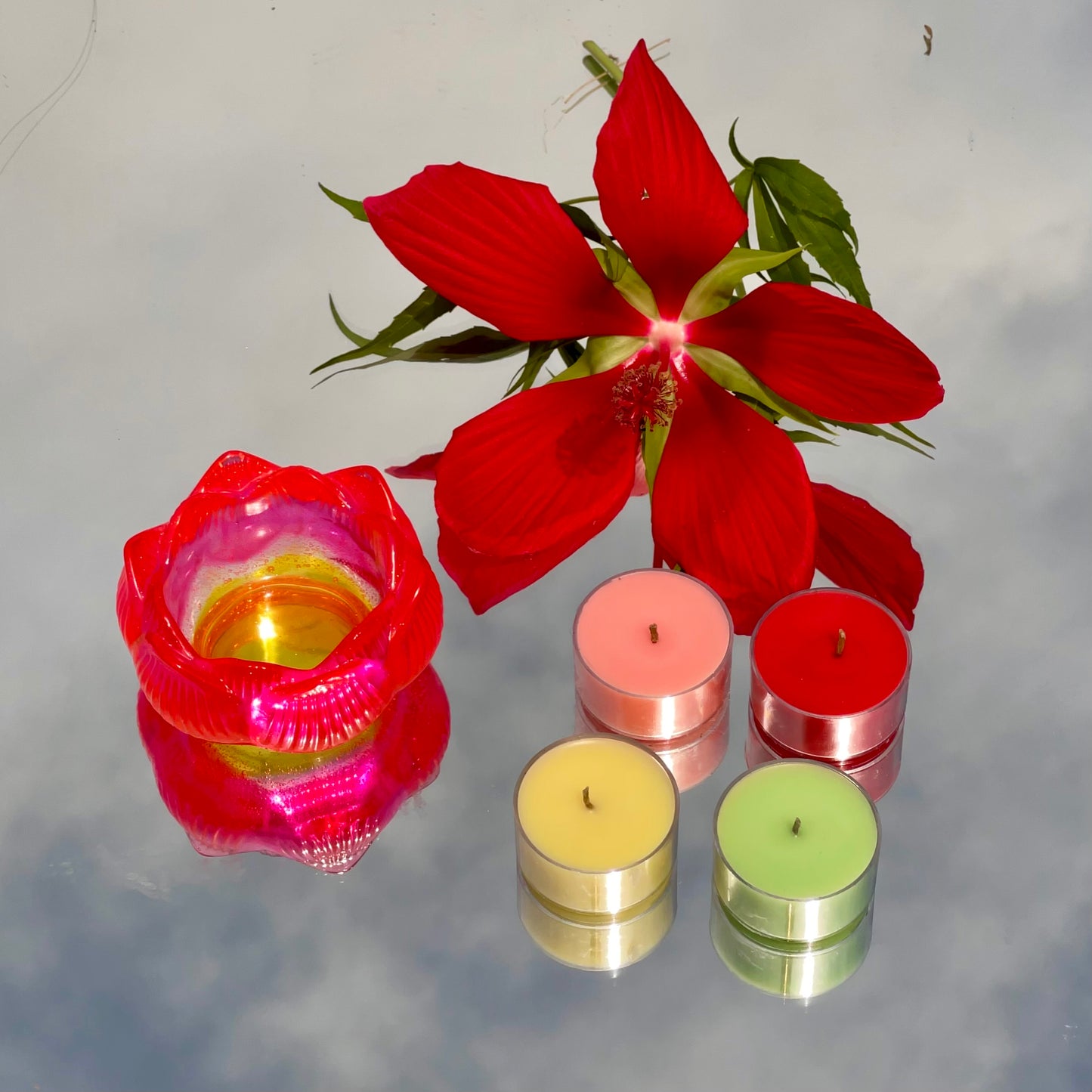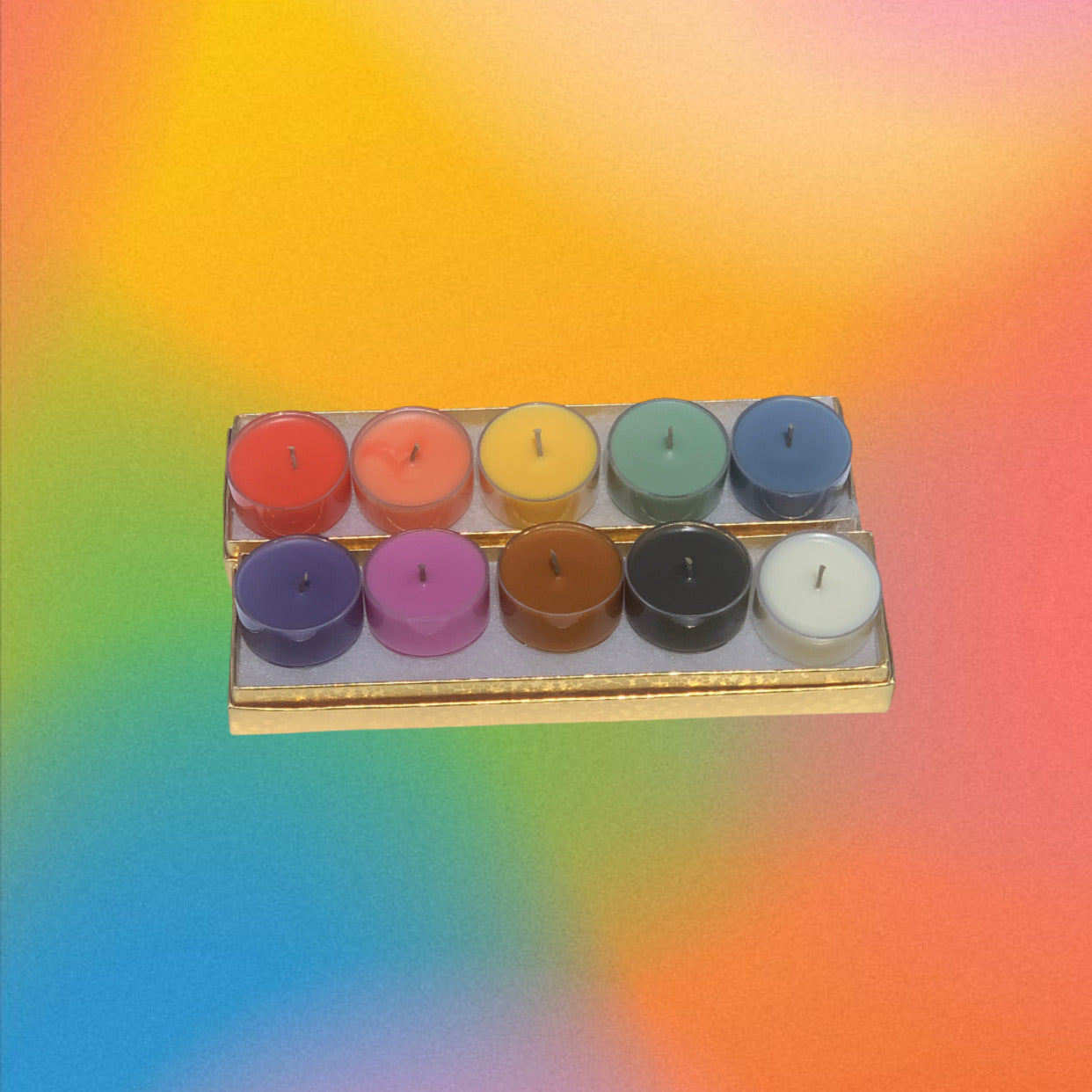 Shipping

All orders are processed within 2-5 business days. The estimated delivery time is 3-5 days. Please contact us if you have any questions.

Returns

Returns must be made within 7 days of receiving your order. Please visit our Return Policy for more information.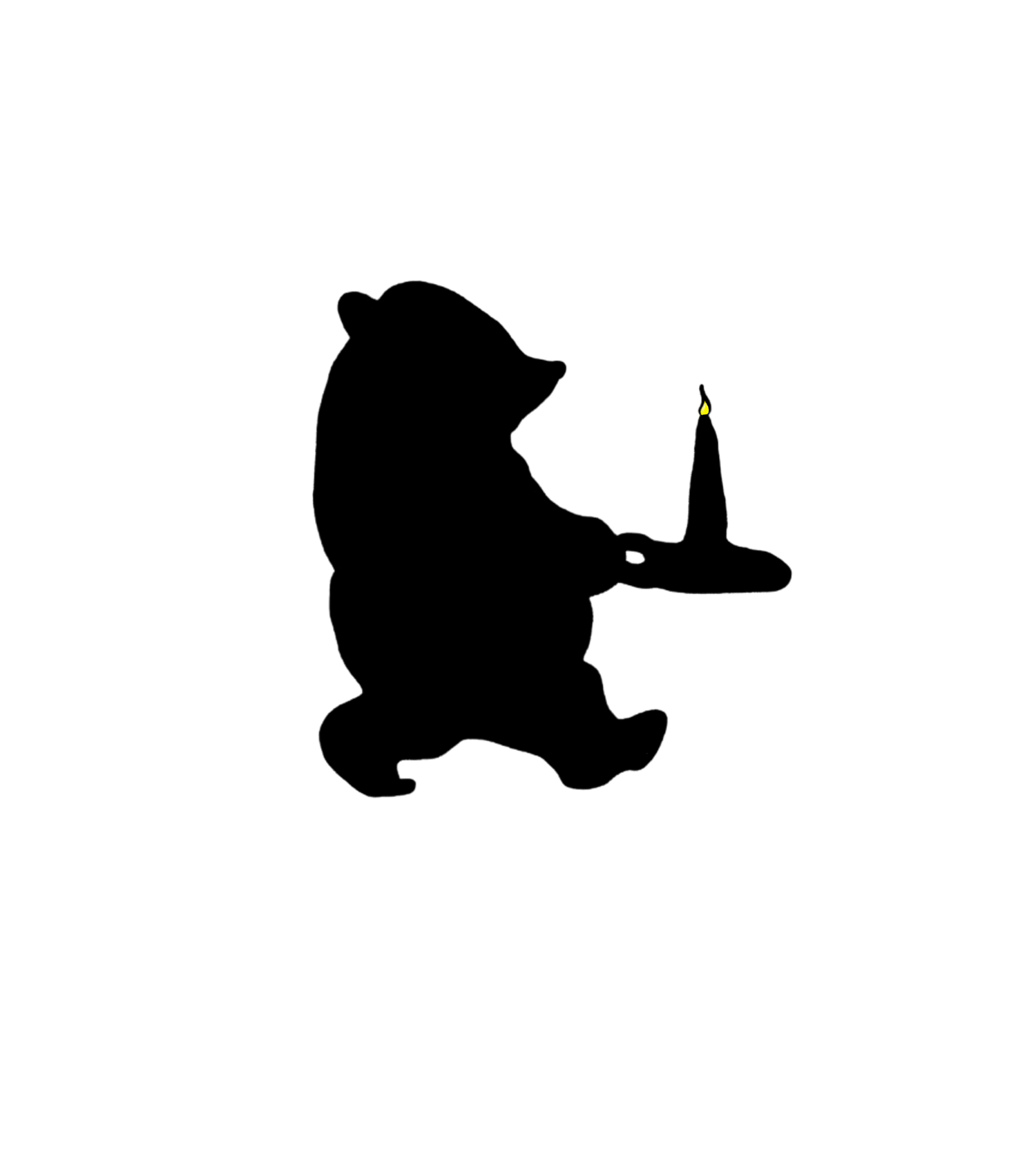 Hand-poured just for you
Every candle is crafted with non-toxic, plant-based ingredients that alleviate the guilt and concern that comes with burning conventional candles around your family and pets.